We employ Proactive risk management
get in touch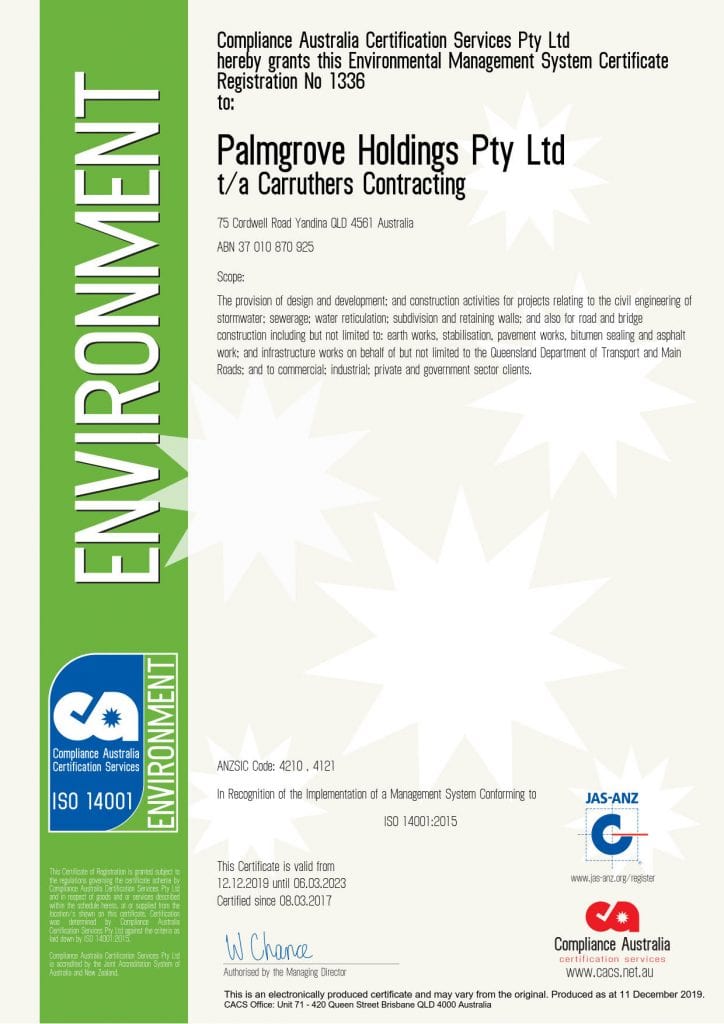 Environmental Policy
Carruthers Contracting is committed to reducing their impact on the environment to as low as practicably possible and will implement management systems appropriate to the nature, scale and potential environmental impacts of proposed developments undertaken by the company. 
This policy includes a commitment to comply with the clients' environmental management plan, approval conditions, local council requirements and relevant environmental legislation and ISO 14001.
This commitment may be achieved through key strategies:
Ensure Environmental Management is an integral part of project planning and site operations;
Environmental awareness training for all workers and levels within the company;
Implement Risk Management strategies and controls to minimise environmental impact;
Document and implement procedures to achieve developed objectives;
Environmental transparency and adherence to all State and local environmental and international standards.
Carruthers Contracting understands that Environmental Management is a shared responsibility and will assist workers and contractors meet their legislative requirements.
Management reviews along with external and internal audits will be the framework for setting and reviewing environmental objectives and targets to ensure they are consistent with the Environmental Policy and the requirements stated in ISO 14001 to ensure continual improvement of the environmental systems.  This will ensure that the objectives positively contribute to environmental protection, operational effectiveness and financial performance.
Compliance
Proactive risk management ensures all projects are compliant with Health & Safety, Environmental & Quality legislation.