We employ Proactive risk management
get in touch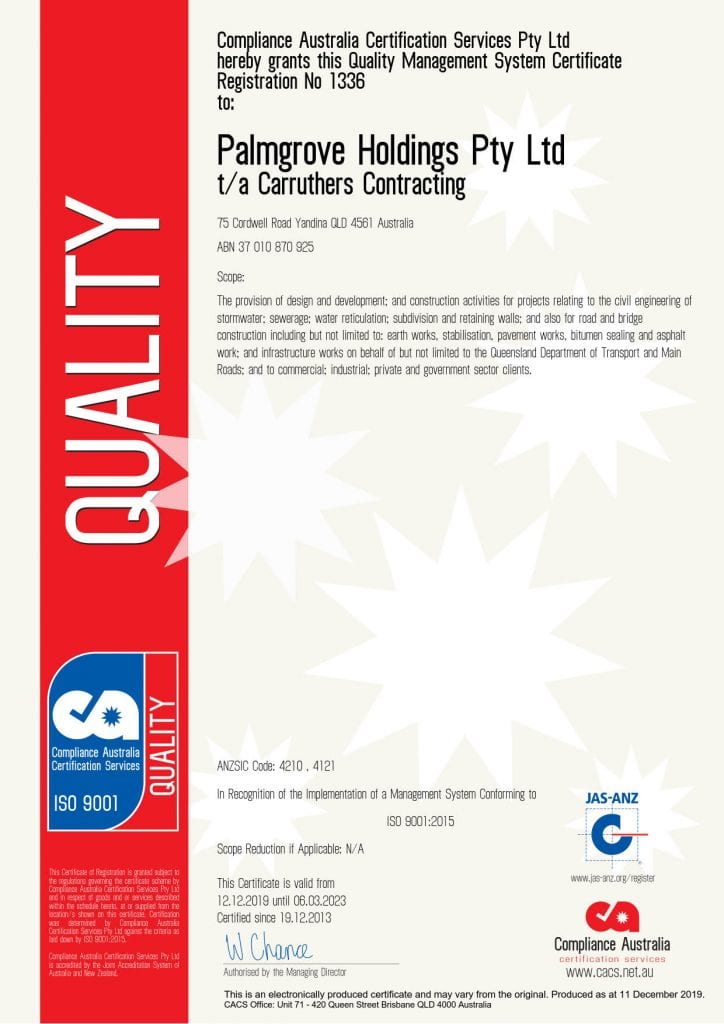 Quality Policy
MISSION
The company aims to provide a level of service exceeding the expectations of our clients, whilst maintaining the highest level of quality by professionally managing all aspects of each and every project, large or small. 
CORE OBJECTIVES
Risk
Delivering our services using risk management strategies aimed at protecting Carruthers Contracting and its staff, other stakeholders and the public.
Service Delivery
Delivering a range of services to our customers based on the principle of continuous improvement.
Human Resources
Retain, re-train and recruit workers to enable effective and efficient delivery of our services.
Management Systems
Effectively manage our processes and address all relevant objectives of our management systems in accordance with the requirements of ISO 9001.  This will include environmental, safety and quality objectives and targets and the review of relevant processes and objectives.
Client Commitment
We are committed to setting up and maintaining an effective communication system for each project that is based on relationship management and outcome based principles. The system will apply to the Principal and staff, consultants, subcontractors and suppliers.
Community Engagement
We are committed to supporting the local community by using local suppliers and workers where possible.  The company will consult & communicate with the general public where possible regarding the project.
Quality Objectives
Management reviews will provide the framework to ensure that Quality Objectives are consistent with the Quality Policy and that the objectives positively and opportunities, contribute to product quality, operational effectiveness and financial performance.
VALUES
Innovative; adaptable; pride in what we do; quick and responsive; flexible; trust and honesty in our workplace; respect; team work; communication; maintaining a safe working environment.
The Company has a Policy of promoting continual improvement and setting of Quality Objectives in line with the framework laid down within ISO 9001 Standard. These objectives will address the risks and opportunities within the Company as determined by Top Management.
The Quality System will be monitored, measured, evaluated and enhanced regularly under the Top Management's ultimate responsibility, with regular reporting and communication of the status and effectiveness at all levels.
Compliance
Proactive risk management ensures all projects are compliant with Health & Safety, Environmental & Quality legislation.